Satisfied customers are my top priority!
Completing a project successfully is deeply important to me, and I am delighted when at the end of the day, clients are happy with their online presence. I also happily assist clients after the publication of their websites. Styleweb takes care of the maintenance of content and social media.
Simply stress-free on the web!
DANIELA MÜLLER
Web consulting, color concept and logo design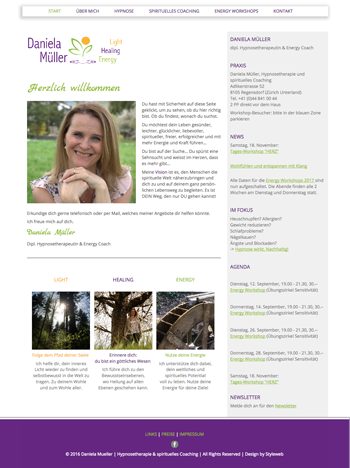 New webshop, Prestashop 1.6, logo design
Redesign, CMS Webydo, maintenance of web content and social media, logo design
Redesign, CMS Wordpress, maintenance of web content and social media
ATEGA HANDELS GMBH
New website, CMS Wordpress, maintenance of web content and social media
HEDIGER GARTENBAU
New website, CMS Webydo
PHYSIOTHERAPIE MILENA RÜEGG
Redesign, CMS Webydo
IDEENGARTEN
New website, CMS Webydo, maintenance of web content and social media, logo design
JANINE DICK - Fit mit Dick
Redesign, CMS Webydo
GLASWERK - Ihr Spezialist in Sachen Glas
New website, CMS Webydo, logo design
ACRYLIC ART BY STEFANIA JANTOURIS
New website, CMS Wordpress
KONTAKTPUNKTE NICOLE KNECHT
New website, CMS Webydo, logo design